Home Foundation Repair
An experienced foundation repair company will first try to determine why the structure is deteriorating. Surface water problems, ground settling and soil erosion, are some of the factors that can lead to foundation problems.
Stone Foundation Repair
A stone foundation can be a difficult problem to repair. There are literally thousands of possible leakage points along every mortar joint where the cement bonds the individual stones. The enormous weight of a stone basement can also cause some settling problems. The B-Dry System offers unique repair products for stone foundations.
Foundation Crack Repair
Cracks in foundation walls usually go completely "through" the wall. Many times, the concrete footer underneath the wall is also cracked. This is caused by movement of the structure or pressure on the walls. For a successful foundation crack repair to last, the walls must first be stabilized. We can install steel I beam supports to provide additional support and stability.
Masonry Foundation Repair
Concrete blocks, cinder blocks and poured concrete basements all fall under the category of "masonry foundations". B-Dry System of Northeastern PA offers patented products and systems designed specifically for masonry foundation repair.
Concrete Foundation Repair
Poured concrete basements can leak through walls cracks, through tie-rod points that were not sealed properly, through joints where the floor meets the wall or even up through floor cracks. The patented B-Dry Drainage System and Rigid Sealer products are warranted for the lifetime of your home. Buckling of the walls is a more common problem in block basements than it is in poured concrete walls. Our structural steel I beams can provide addition support against outside pressure from saturated soil conditions.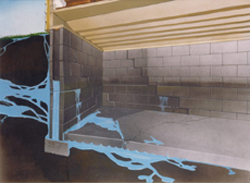 Foundation Repair Needed


Foundation Repair Cost
The cost associated with repairing your problem depends largely on the scope of work required to provide lasting results. Interior drainage systems to control basement water are charged by the lineal foot. Sealing wall cracks, installing steel I beams, adding sump pumps, etc are all charged per unit installed. Extending outside gutters away from the home, re-contouring the property for surface water control can be part of the overall project. Your foundation repair cost will ultimately depend on the number of services needed for your particular problem.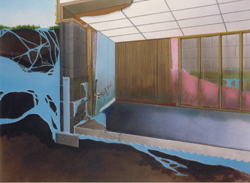 Foundation Repair Company
B-Dry System of Northeastern PA has many products and techniques which have been improved far beyond our many Patents. We'd be happy to look at your problems and give you a Free Estimate for the repairs you need.